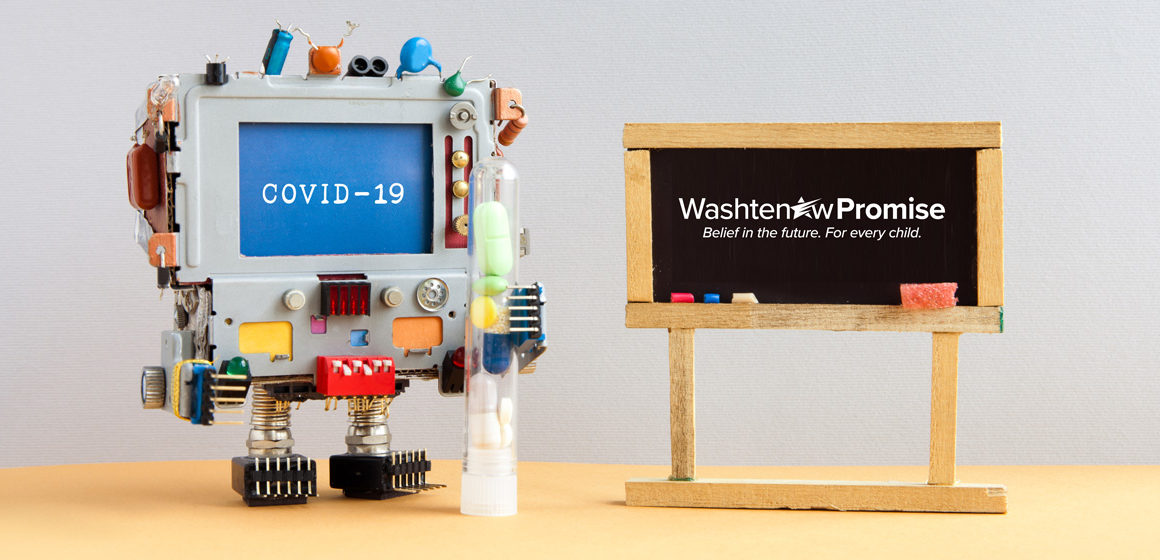 Along with anxiety and uncertainty, the pandemic we now face together is also bringing out the best in us. Caring for those we love, and for those we hardly know, can help define us at this moment and lead to new and stronger relationships, new skills and technologies, and a renewed sense of hope about our ability to solve problems and overcome adversity.
At Washtenaw Promise, we are determined to celebrate hope, while planning for action and getting results. As we temporarily increase the physical distance between us, we have the opportunity to strengthen our social connections: the relationships we are building in the community, with colleagues, WP mentors, teachers, administrators, business leaders, parents, and young children.
Our programs are moving forward, strong and sustainable:
Our Big Friends mentoring program for preschoolers continues to grow. When we return to school in September, the WP mentoring team will include nearly 100 volunteers — including 50 student athletes from Concordia University, over a dozen students from U of M and EMU, and many community volunteers of all ages and backgrounds—supporting individual children and families in need. Our mentors will be able to connect with a helpful network of social workers, behavioral specialists, and family-support service workers.
Development of our major teacher wellness and parenting support programs will not slow down because of Covid-19, or anything else. In fact, our efforts are multiplying. As school resumes, the challenges for preschool teachers and administrators will intensify. The Ypsilanti Community School District and Washtenaw Intermediate School District can use support from our WP community to meet these challenges. We will offer a multi-component teacher wellness program for Ypsilanti preschool teachers, as well as our growing program of afterschool parenting classes.
With new funding in place, a feasibility study is on track for a major Cradle-to-Career Center, projected to open in 2022 and include a public school with a focus on STEM education and robotics. The Center will also offer career technical education, entrepreneurial and small business opportunities, as well as a full range of family support services. Washtenaw Promise has played a major role in planning this Center and we will continue to move it forward.
Our introduction of Imagination Library into the community will begin this month. With this program, families with children under 5 can sign up for free, quality books to be mailed to their homes each month.
At a time like this, the future for our children depends not only on our ability to leverage knowledge and science against outside threats, but also on our demonstration of the determination, resilience, and confidence that can enrich and sustain us. Washtenaw Promise is proud to join in this effort to support a promising future for every child.
Tim Wilson,
Founder and Executive Director